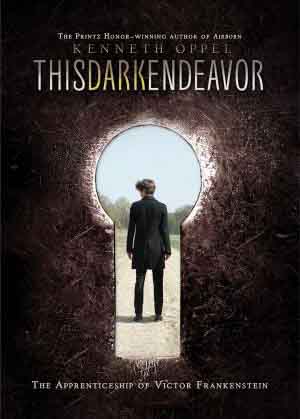 Victor and Konrad are the twin brothers Frankenstein. They are nearly inseparable. Growing up, their lives are filled with imaginary adventures...until the day their adventures turn all too real.

They stumble upon The Dark Library, and secret books of alchemy and ancient remedies are discovered. Father forbids that they ever enter the room again, but this only peaks Victor's curiosity more. When Konrad falls gravely ill, Victor is not be satisfied with the various doctors his parents have called in to help. He is drawn back to The Dark Library where he uncovers an ancient formula for the Elixir of Life. Elizabeth, Henry, and Victor immediately set out to find assistance in a man who was once known for his alchemical works to help create the formula.

Determination and the unthinkable outcome of losing his brother spur Victor on in the quest for the three ingredients that will save Konrads life. After scaling the highest trees in the Strumwald, diving into the deepest lake caves, and sacrificing one's own body part, the three fearless friends risk their lives to save another.
This Dark Endeavor is beautifully written.
That is the first of many of reasons why everyone should read this fantastic book.
Oppel has amazed and astounded readers for years with his Silverwing and Skybreaker books. But in this YA prequel on the creation of Victor Frankenstein Oppel has truly out done himself.
First off, besides being beautifully written, it is just plain riveting. I was unable to put it down. The characters are both relatable and robust. Readers will feel for Victor's love for his brother, while at the same time understand his jealousy of his brother for Elizabeth's affection. The trials that the characters face in searching for the elixir of life will have readers reeling in their seats as the book packed with action and adventure that is not to be missed.
And yet most importantly the mission of creating a monster of the protagonist, a man who would literally bend life to his will, from a young, naïve, kind spirited boy is never forgotten nor missed. Oppel not only creates a fresh take on an old story, he is able to blend the tone of his prequel with Shelley's Frankenstein without forfeiting his creativity and originality in his own This Dark Endeavors.
Oppel has truly created a masterpiece here and I would certainly recommend this book to anyone who has read Mary Shelley Frankenstein.
Publisher:
Simon & Schuster Children's Publishing
Published:
August 23, 2011
Price: $17.99