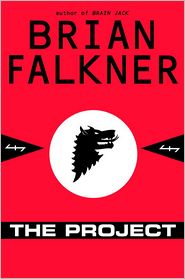 It begins with a book, the most boring book in the world, a book so boring no one could ever read it—the perfect place to hide a dangerous secret.

When best friends Luke and Tommy volunteer to help move books from their library's basement to higher ground during a quick rising flood, they discover the only surviving copy of the most boring book in the world: Leonardo's River, lost for over 100 years. The book is connected to Leonardo da Vinci and is worth millions, so they return that night to steal it. Unfortunately, they're not the only ones with that plan. . . .
The Project is a fascinating combination of young adult mishaps and science fiction. The science fiction isn't officially introduced until the end of the story, but Falkner does a great job weaving the story along until this point, creating a culmination that will excite and captivate readers of all ages.
The Project has well crafted characters, Luke the protagonist, is particularly interesting and reminded me much of Robert Munchamore's Cherub series. Yet some of the characters, such as Tommy and the antagonists could have used more development. They felt simple in relation to the rest of the story, and in comparison to Luke, were practically useless. That said I liked many of the characters, but felt they could have been more than they were.
Of course besides the characters, the plot itself is interesting. Falkner does a great job taking an unused subject matter, Leonardo's creations and the Vitruvian Man, and turning them into a pulse pounding easy read. But of course one of my favorite parts of the books is the ending (you'll have to read it to see why.)
All in all I liked The Project. The subject matter was interesting, Luke was a great character, and the book itself was fast paced enough to both hold my attention and make me want to keep reading. Definitely would recommend readers (especially boys 12 and up) give it a chance.
Publisher:
Random House Books for Young Readers
Published:
August 23, 2011
Price: $17.99