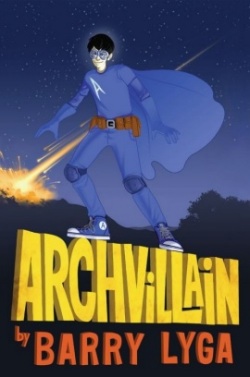 Kyle Camden knows exactly where he was the night Mighty Mike arrived: Sneaking around the fallow field behind Bouring Middle School (motto: "The U Makes It Exciting!"), running the electrical cabling that would allow him to dump the contents of the old water tower on the visiting football team during the next day's game.
Which is why he couldn't tell anyone where he was.
Or what he saw.
Those lights everyone saw in the sky weren't tiny meteors burning up in the
atmosphere. They were some kind of strange, supercooled plasma that bathed the entire field - including Kyle - in alien energies, energies that boosted Kyle's intellect and gave him superpowers.
Unfortunately, the energies also brought Mighty Mike to earth.
Kyle is the only one who knows that Mighty Mike is an alien. Everyone else thinks that Mike is just some kid who stumbled into the field, got beefed up on meteor juice, lost his memory, and decided to start rescuing kittens from trees. But Kyle knows the truth. And he'll do anything in his power to stop Mighty Mike, even if it means being an Archvillain!
Fans if Barry Lyga's previous books may be a little surprised when they pick up his newest book, Archvillain. Archvillain is written for a younger audience, and it certainly reads like it.
That said this is not a bad book. Personally once I got over the differences and expectations from his previous books in style and content I really enjoyed it.
Archillain reads like Grossman's Soon I Will Be Invincible and the recent blockbuster movie, Megamind. I've always liked superhero stories and I'm guessing that if you read Lyga's previous books you're not new to the superhero genre yourself (given Lyga recently wrote Wolverine: Worst Day Ever.) This is clearly a superhero story but told from the point of view from the villain. It's got clever and funny moments and kids in middle school and elementary school will love the action and pace of the book, making it a perfect fit for its desired age group.
All in all while I was disappointed that Archvillain wasn't in Lyga's normal vein of stories, I still enjoyed it. And I guarantee that kids (especially boys) in middle/elementary school will love it to, making it a fun good read for the holidays.
Publisher:
Scholastic Press
Published:
October 1, 2010