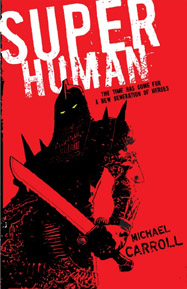 Four thousand years ago the world's first super human walked the earth. Possessing the strength of one hundred men, skin impervious to attack, and the ability to read minds, this immortal being used his power to conquer and enslave nations. Now plans are in motion that will transport this super human to the present, where he'll usher in a new age of tyranny unlike anything the world has ever seen.
Determined to stand against them, using powers they've only just begun to master, is a ragtag group of young heroes. For them this first test may be their greatest . . . and last.
Look it's a bird! A plane! No it's Superman!
Superheroes have been in American culture for decades. They have been in comic books, movies, and books. They spark our imagination as we fly alongside them, they entertain us as we fight beside them defending the weak, and they give us hope to become a better person that will do all that is in their power to save the day.
But what do you do when the superheroes disappear? Do the supervillains disappear as well? Who then defends the defenseless.
This is how Michael Carroll's Quantum Prohecy series begins. There were superheroes to defend the land, and then they all just … disappeared. I wont go into to much detail but the series follows a new generation of heroes as they develop their powers and fight the supervillians across the world.
I have to say while this sounds a little hokey Carroll has done a fantastic job with the series, because I haven't been able to put it down. I've been at the edge of my seat while I've read the three books in the series and I even bought the special book of short stories Carroll wrote and sold between publication of books two and three. His characters are endearing, his action is exciting and interspersed throughout the entire book, and the entire series feels like a giant comic book, great for kids and adults of all ages.
Of course Super Human is no exception to this rule. While not exactly what I was expecting Super Human was a great and exciting book for kids of all ages. It takes place before the Quantum Prophecy series and for those readers that read Superhuman, the collection of short stories Carroll wrote, Super Human acts as the origin story to a few of the characters created there, including Thunder.
I was a little disappointed by the ending of Super Human, but because Carroll has already written the future of this book with the Quantum Prophecy series I understand why he made the choices he did.
All in all this and the rest of the series are great books that kids and comic fans of all ages should read.
RATING
8.5 out 0f 10
INFO
Publisher: Philomel
Published: May 13, 2010
Price: $16.99