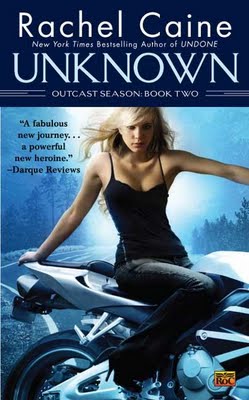 Unknown: Outcast Season Book 2
Living among mortals, the djinn Cassiel has developed a reluctant affection for them-especially for Warden Luis Rocha. As the mystery deepens around the kidnapping of innocent Warden children, Cassiel and Luis are the only ones who can investigate both the human and djinn realms. But the trail will lead them to a traitor who may be more powerful than they can handle...
Rachel Caine is a spectacular author. Not only is she incredibly prolific, but she gives each of her books the special attention needed to make them captivating and intriguing to audiences world wide. That said Caine did not disappoint with
Unknown
.
Unknown is set in the same universe as Caine's Weather Warden series and is the second book in Outcast Season series. Because of this I would recommend readers read the first book in the Outcast series and possibly the Weather Warden series as well before reading Cain's newest novel. While this seems like a considerable effort to read two series before reading this book, let me say it will be worth it. For while Caine does recap and give general descriptions of her characters and the situations they're in, one of the best qualities about Cain's books are their intricate plot lines which tend to build throughout entire series. These intricate plots also can't be fully appreciated in a half page recap of the story presented in the beginning of the book.
As for Unknown itself, it's full of passion, action, and memorable characters. And it's these gripping characteristics will captivate the reader throughout the entire book. Until Caine resolves the end in her customary cliff hanger, forcing the reader to remain in a state of constant anticipation until the next book in the series, Unseen, is released.
Unknown and the Outcast series are great books that are a must read for any fan of urban fantasy.
INFO
PUBLISHER: Roc
PUBLISHED: February 2, 2010
PRICE: $7.99