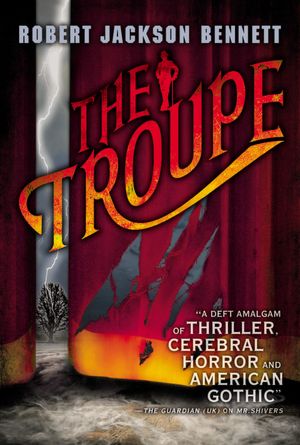 Vaudeville: mad, mercenary, dreamy, and absurd, a world of clashing cultures and ferocious showmanship and wickedly delightful deceptions.

But sixteen-year-old pianist George Carole has joined vaudeville for one reason only: to find the man he suspects to be his father, the great Heironomo Silenus. Yet as he chases down his father's troupe, he begins to understand that their performances are strange even for vaudeville: for wherever they happen to tour, the very nature of the world seems to change.

Because there is a secret within Silenus's show so ancient and dangerous that it has won him many powerful enemies. And it's not until after he joins them that George realizes the troupe is not simply touring: they are running for their lives.

And soon...he is as well.
The Troupe is unlike any book I've read in a long while. It is subtle yet gripping in the way that Bennett weaves this intricate tale of a vaudeville performer looking for his father, only to discover a truth far greater than he ever could have imagined.
The characters were imaginative and deep. As each strikes home in the readers mind with such a level of clarity and strength that they resonate hours after the last page is turned. Of course, besides these characters just being well written, they are also complex with back stories and events that truly caught me off guard and surprised me.
This level of surprise is similar to the plot of the book.
The Troupe
appears to start off slow and methodical, introducing only enough odd and interesting tidbits of information to string the reader along. But as the story progresses these tidbits of information and peculiar occurrences begin to add up, accelerating the story and upping the level of intrigue until, like a musical crescendo the story reaches a climax that will engross the reader with a level of excitement that can only be described as shock and awe.
All in all The Troupe is magical. It is filled with excitement, intrigue, and will captivate readers to the final pages. But most importantly it is a beautifully written work of art that will grip your heart with its final chapters, leaving your misty eyed and melancholy as you are both happy to have read this work as well as sad to see it finish. All in all a great book.
Publisher: Orbit
Published: February 21, 2012
Price: $13.99