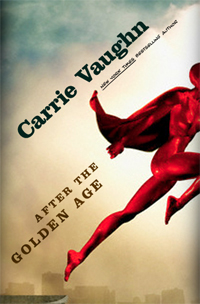 Can an accountant defeat a supervillain? Celia West, only daughter of the heroic leaders of the superpowered Olympiad, has spent the past few years estranged from her parents and their high-powered lifestyle. She's had enough of masks and heroics, and wants only to live her own quiet life out from under the shadow of West Plaza and her rich and famous parents.

Then she is called into her boss' office and told that as the city's top forensic accountant, Celia is the best chance the prosecution has to catch notorious supervillain the Destructor for tax fraud. In the course of the trial, Celia's troubled past comes to light and family secrets are revealed as the rift between Celia and her parents grows deeper. Cut off from friends and family, Celia must come to terms with the fact that she might just be Commerce City's only hope.

After the Golden Age was not a good book.
I tried to like it, I love a number of superhero books, including Shades of Grey by Jackie Kessler and Caitlin Kittredge, Soon I Will Be Invincible by Austin Grossman, and The Quantum Prophecy series by Michael Carroll, but I just couldn't get into After the Golden Age. Possibly it's because I've had trouble in the past relating to Carrie Vaughn's writing style in some of her past books (including Discord's Apple, another great idea that I just didn't like the way it was written.)
Or it could have been the characters, which I felt were feeble and uninspired. Or it could have just been the plot, which I thought could have been made into so much more.
All in all I didn't like After the Golden Age. I wish I had, as it was a fun premise for a book, and I wanted to like Vaughn's writing style. But it just wasn't meant to be.
RATING
4 out of 10
INFO
Publisher: Tor Books
Published: April 12, 2011
Price: $24.99