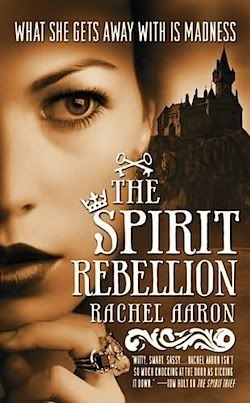 Eli Monpress is brilliant. He's incorrigible. And he's a thief.

He's also still at large, which drives Miranda Lyonette crazy. While she's been kicked out of the Spirit Court, Eli's had plenty of time to plan his next adventure. But now the tables have turned, because Miranda has a new job -- and an opportunity to capture a certain thief.

Things are about to get exciting for Eli. He's picked a winner for his newest heist. His target: the Duke of Gaol's famous "thief-proof" citadel. Eli knows Gaol is a trap, but what's life without challenges? Except the Duke is one of the wealthiest men in the world, a wizard who rules his duchy with an iron fist, and an obsessive perfectionist with only one hobby: Eli.

It seems that everyone is hunting for Eli Monpress.
It's often hard to keep the same level of action and mystery in the second book of a series. This has to do with the author having to create a new situation to capture the reader's attention while at the same time stringing the reader along in the central mystery to the series arc without giving away to much. It's hard and it's complicated, but if you can get it just right it can put the series just in the right spot to really take off.
In The Spirit Rebellion, Rachel Aaron does a terrific job of introducing readers to an exciting new situation that brings back all your favorite characters. Miranda gets put into a pickle when political action starts playing against her and she soon finds herself tossed out of the organization she's given her life to protect. Nico is forced to confront the realities of her situation as a demonseed. Josef must face his connection with the Heart of War. And Eli walks into a blatant trap he may not be able to get out of this time.
Like The Spirit Thief, Aaron does a great job maintaining both fun dialog and complex characters, but what I found most interesting about The Spirit Rebellion was the back story and cliffhanger like ending that Aaron introduces in this sensational sequel. Readers really get to see a new side to Eli, as we get a glimpse into his past, but most intriguing is the relationship with Benehime, who plays a fascinating yet small character in this book. It's obvious to readers she is going to play a much bigger role in books to come, but it's very exciting to watch her story and relationship with Eli unfold.
Of course, while I wont say what the cliffhanger like ending entails, I will say that it sets up an engaging plot for the next book in the series, The Spirit Eater, that I'm pretty sure I wont be able to put down.
All in all The Spirit Rebellion is a great book. The characters are witty and robust, the plot is intricate and just starting to bloom, and the book as a whole contains action, suspense, and magic in just the right proportions to allow the book to move at an exhilarating pace. Making The Spirit Rebellion a fantastic second book in the Legend of Eli Monpress series.
Published:
November 1, 2010